Setting up a blog can be quite tricky, especially if you are a beginner. It is easy to get confused by tons of information that we may find on the Internet and getting started seems to be the most difficult thing. But, as most of the new things in life, starting a blog is easier that it seems at first.
If you have been wondering how to create a successful blog, here's a 17-step checklist that can help you build a high-quality and profitable website.
Following these steps will help you get off on the right foot: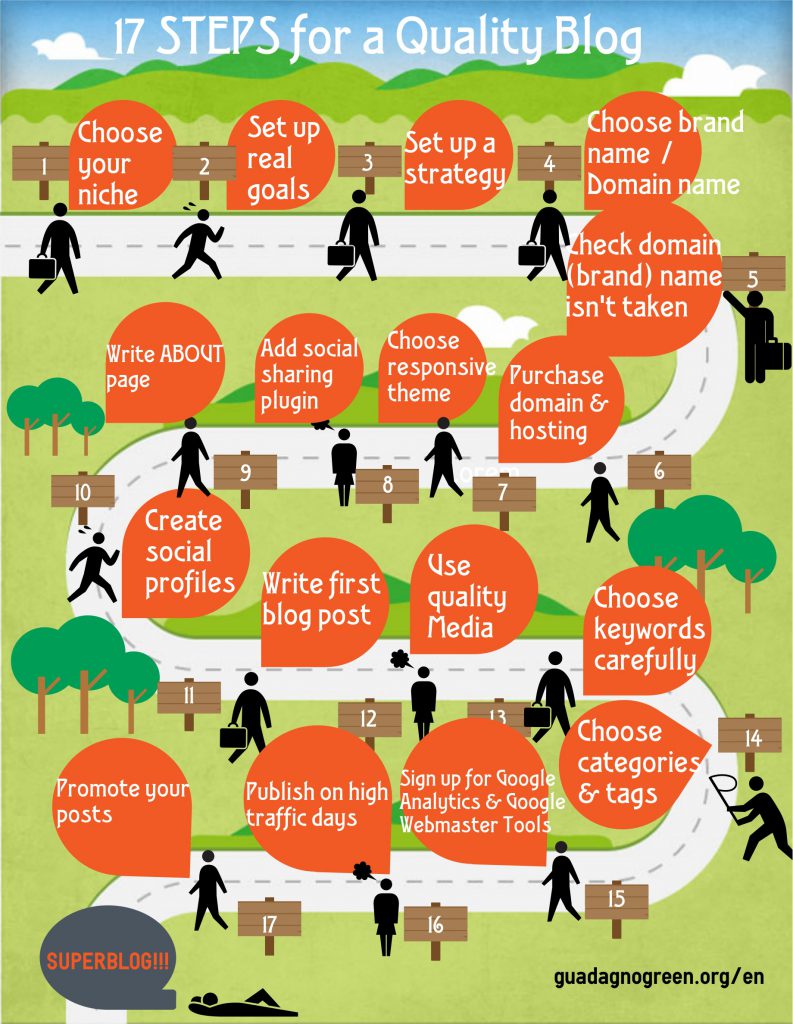 How to Create a Successful Blog: A 17-Step Checklist
#1 Choose a niche for your blog
A niche is a segment of the market, where your audience is targeted. A niche is nothing more than a specific group of people that have the same interest or need a solution for the same problem.
Examples of popular niches are:
weight loss,
natural remedies,
cooking,
diets,
job services,
low-cost travelling,
fashion and make-up,
cryptocurrencies etc.
You niche must be something you are really passionate about. You have to love your niche, if you don't want to lose interest for your blog.
Do some research as well, in order to see what other people write about your area of interest and what other blogs in your niche are doing. Do some research regularly, even after starting your blog, it keeps you informed about your market and your public and it helps you come up with something new to offer to your audience.
#2 Set up some real goals
These goals may have a deadline and a specific outcome (for example: reaching a certain number of followers/subscribers within a certain period of time; publish a number of blog posts per week o per month etc.). Writing down some specific goals will help you take action and bring you closer to financial freedom.
#3 Set up a strategy for your blog
First and foremost, you need to know what exactly you want to offer to your audience through your blog (products, services, reviews, consulting, mentorship, tips etc.) and think about your end-goals. You have to always have in mind the main reason you're starting a blog and how you intend to use it.
#4 Think of a brand name/domain name
It must be something catchy, but remember to keep it simple.
#5 Check to make sure your brand name/domain name isn't already taken
Usually before buying a domain you have the possibility to see whether this domain name is already taken, but if you're building a blog on a free domain and hosting platform, then it is very important to do a research and check that there aren't other websites with the same domain name.
#6 Purchase a domain and a hosting package
Purchasing your own domain gives you full control over your blog/website, but you can also choose to start a blog with one of the many free blogging platforms. If subsequently you decide to buy your own domain, some platforms will give you the possibility to transfer your blog to your own purchased domain.
#7 Make sure to choose a responsive theme
The theme that you will choose for your blog must suit your purposes and your niche. Make sure it's also mobile responsive, as most of the traffic that online is mobile traffic.
#8 Add a social sharing plugin
Practically you need to add some buttons for the different social networks, where people that visit your blog/website can click in order to share your articles. This is a great way to grow the number of views and the authority of your blog.
#9 Write an About Me Page
This is a page that describes who you are, why you started this blog and why you think it is different from the other blogs/websites in your niche.
#10 Create some social networking profiles
You need to create a Facebook page, Twitter, Pinterest, Instagram, Webtalk or LinkedIn profiles etc. and add the links to your blog/website so your followers know where else to connect with you. You don't have to create a profile on every existing social network, just choose the ones you're most active on and where you can easily reach your audience.
#11 Write your first blog post
Make sure that your first blog post (as well as the following ones) has at least 1000 words and sets the tone for your blog's style and your niche. Don't forget you have to provide value through your content and to positively impress your audience, if you want people to keep coming back to your blog, and if you want your rankings in Google to improve.
#12 Use quality media for your articles
The media include images, photos, videos, audio and graphics. Inserting various types of media in our posts helps to increase the value of the post and the ranking in Google.
#13 Choose your keywords carefully
Choosing the right keywords is the first step towards better rankings in Google and a higher authority of your blog. Every blog post that you will be publishing must target a keyword (or a keyword phrase). There are different online tools that can help you identify the most researched high-quality keywords and provide interesting and clickable content ideas.
Here are some of them:
Google Keyword Planner (you must have a Google account in order to sign-up);
This is probably one of the best keyword research and SEO tools. It will assist you in finding the most researched keywords with low competition, and it has many other interesting features as well. You can learn more about this tool by reading my Jaaxy Review.
#14 Choose your categories and tags
Choose carefully your categories. Try to put each blog post into only one category and add up to 5 tags based around the keywords targeted in that blog post.
#15 Sign up for the Google Analytics package and Google Search Console (ex Webmaster Tools)
This step is fundamental for tracking the visitors to your website. You can see how they behave once on your blog/site, and how Google sees your blog, in order to increase its performance. Furthermore, you have the possibility to send to Google the links of your new blog posts for indexing.
#16 Try to publish your posts on high traffic days
These are usually from Monday to Thursday. Publishing during these days may give you maximum chance of exposure.
#17 Promote your posts
Promoting the posts that you publish on your blog is extremely important, especially if your blog is new and you have to make a name as a trustworthy and interesting website.
There are different free ways to promote a website:
social networks (Facebook, Pinterest, Twitter, Tumblr, LInkedIn, Instagram, YouTube, Webtalk etc.),
e-mail marketing (newsletter),
social news websites (Reddit).
In order to reach more people in your niche, you may consider taking advantage of some paid methods, such as Facebook Ads or Google Ads.
In this blog post I have tried to underline the most important steps in building a high-quality website. Every one of these steps deserves a separate space and needs to be discussed in detail. I will certainly take the discussion further in my future posts and dig deeper into how to create a successful blog and how to monetise it.
Make sure to read my SEO guide for beginners, where I explain in detail some of the steps I mentioned above.
If you are really interested about learning how to build a successful business and make real money online, then you should read my review of this training platform: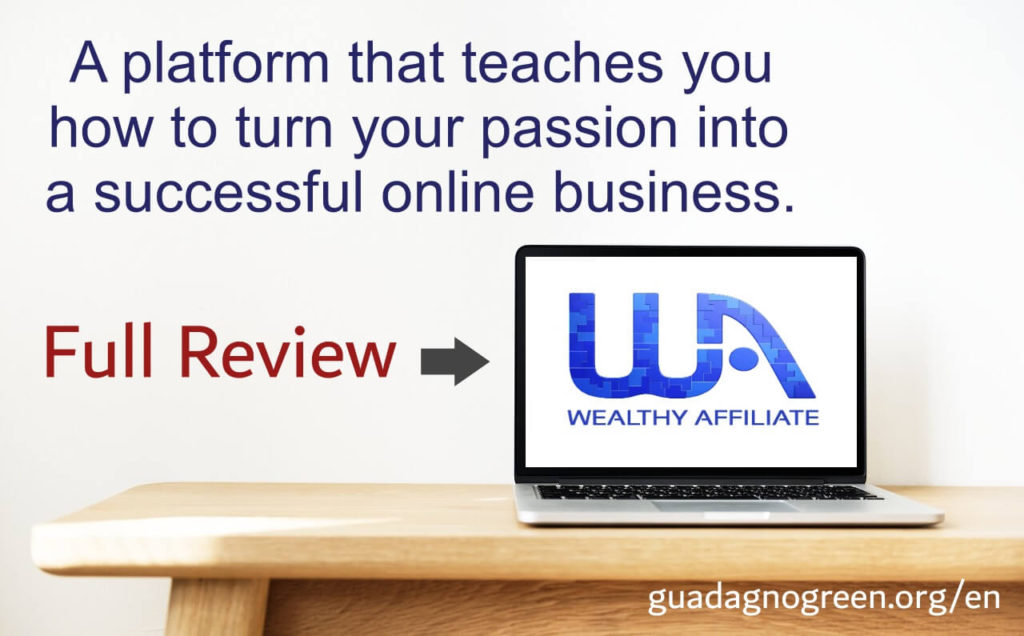 Also don't forget to get your hands on my FREE Guide to making money online for beginners, where I am showing the exact steps to start making real money online.
Good luck and have fun blogging,

If you find this article useful, please drop me a comment and share it with your friends, so others can benefit form it too! Thank you!