Email marketing is a very important part of your marketing strategy and in this post, I am going to show you how the GetResponse Email Marketing service can benefit your business and contribute to your success. Continue reading this review to learn more about its features, pricing, pros, and cons of this tool.
Why do you need an email marketing tool?
Emails are the best way of communicating with your audience and of transforming people into customers.
Email marketing should become a big part of your marketing efforts and the email marketing tools can help you achieve your goals and manage the whole process more effectively.
There are different reasons why you need an email marketing tool:
It's a fast way to reach your target market and distribute information and marketing content.
It automates a lot of processes and saves you time and money.
It helps you monitor your results and test different campaigns.
Email marketing tools allow you to schedule and send email campaigns to targeted groups of subscribers.
What is GetResponse?
GetResponse is a web-based email marketing tool aimed at making online marketing easier and at improving conversion rates.
This affordable and easy-to-use software was created by one of the oldest email marketing companies, that since its foundation in 1999, has become the #1 choice for more than 350,000 marketers in 182 countries worldwide.
The popularity of this tool is due to its awesome features and affordable pricing. It helps both small and big businesses reach higher goals in their email marketing and is perfect for every type of online marketers. 
GetResponse aims at:
Making online marketing tasks easier.
Increasing conversion ratios.
Increasing profitability.
Who is GetResponse for?
Thanks to its features and to the capability to manage small and large subscriber lists, the GetResponse email marketing service suits all kinds of entrepreneurs and businesses:
small to medium businesses;
affiliate marketers;
network marketers;
bloggers;
ecommerce merchants etc.
Here's a short video introducing GetResponse and its main features:
Main Features of GetResponse
GetResponse has a great set of features to help entrepreneurs reach their business goals.
Email marketing tools with Customizable E-Newsletter templates
The GetResponse email marketing tools make the whole process of creating and sending emails to subscribers easy and fun.
Their easy-to-use email builder includes various pre-defined templates and stock images to help you make your emails look more visually appealing.  
The customizable e-newsletter templates, grouped by categories, can be edited by changing the fonts, adding images and other media. You are also free to create and save your own templates within the software.
Marketing automation
This awesome feature will help you create particular events that will trigger specific emails. For instance, when a visitor clicks on something you can send him an email with more details. Or, you can set up a thank you email when someone purchases from your website.
This feature is useful as it increases interactions with your subscribers, helps you create trust and increases conversion rates.
Autoresponders
This feature will help you create, schedule and send emails to your subscribers on autopilot. Just choose the right timing for sending out your emails and informing your subscribers about new blog posts, offers, updates etc.
The autoresponder function of GetResponse is pretty smart, as you can send either time-based emails or action-based messages. You are free to define the action-based auto-emails, but the software also comes with templates for the following action triggers:
Initiated transactions;
Purchases;
Birthdays;
Wishlists.  
This infographic shows how to use autoresponders to promote your business and improve your conversions.
The GetResponse Interface
The GetResponse interface has a very user-friendly design, making it perfect for beginner marketers too. All the features of the software are easy to find and are not hidden behind complicated looks.
Customized Landing Pages
Very few of other email marketing services have this feature. GetRespose has an integrated function that helps you create beautiful-looking landing pages, which may greatly benefit your business and sales.
If you are a beginner marketer, you are probably concerned about not being able to build attractive and effective landing pages to promote your products and services. Most marketers use third party tools which can be quite expensive. The great thing about GetResponse is that the landing pages function is part of the software.
Webinars
This is another amazing feature, that allows you to save time and money. GetResponse offers you the possibility to host webinars right on the platform. Having the mailing list and the webinar tools on the same platform is pretty convenient.
Conversion Funnel function
This is another awesome feature for online marketers. You can set up your own funnels and lead magnets that will help you increase your conversions. Take advantage of the ready-to-use campaigns and customize them to accomplish your goals, such as:
Grow your lists – Encourage people to sign up and follow up with emails to keep them engaged.
Sell online – Drive traffic to your site and turn visitors into customers.
Build brand recognition – Promote and sell your webinars to share and sell knowledge.
Facebook Ads
This feature is in beta testing now and allows you to set up targeted ads on Facebook and Instagram directly from the GetResponse platform. This will help you reach a wider audience, get more leads, and sell more online.
Advanced Analytics and Insights
Monitoring analytics and statistics is vital for your business. GetResponse has an integrated analytics tool that provides all the information about your email performance, subscribers count, social sharing stats and much more. This tool also has some advanced features such as:
One-click segmentation – to let you know who engaged with your emails and who did not.
Metrics over time – shows the exact time that the majority of your subscribers take action on your emails.
Per-user information – provides detailed information on your subscribers, such as demographics or the emails they best respond to.
How much does GetResponse cost?
GetResponse has a 30-day FREE trial and several paid plans.
If you want to test out the platform and its features, then take advantage of the free trial. No credit card is needed to register, which is simply fantastic!
The paid plans start at only $15 (€13) per month, which makes GetResponse one of the most affordable email marketing services on the Internet. You can also choose your billing period: monthly, yearly (you will get a 18% discount) or 24-months (you will get a 30% discount).
Here are the paid plans offered by GetResponse: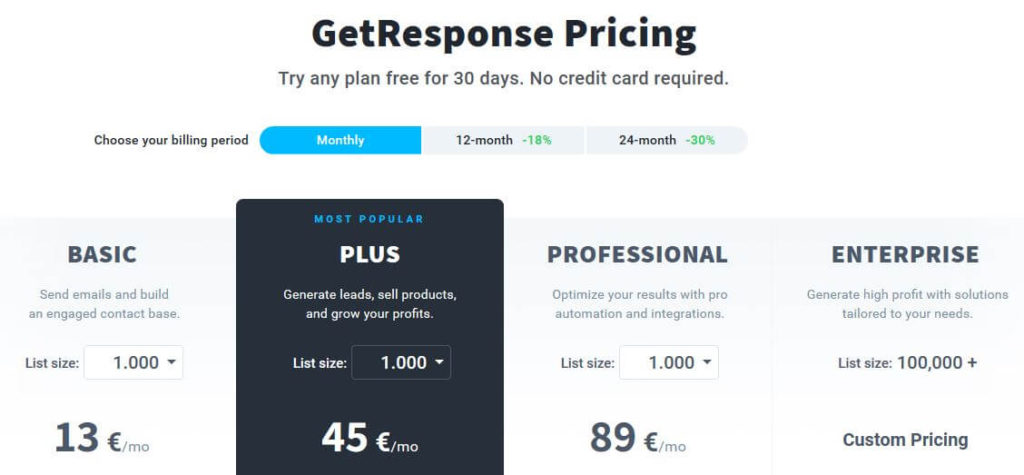 The BASIC plan includes:
Email marketing
Autoresponders
Unlimited landing pages
Unlimited automation templates
Sales funnels (1 funnel)
Unlimited lead funnels
Facebook Ads
Sell e-products.
The PLUS plan includes everything in BASIC and more:
Automation builder (5 workflows)
Webinars (max 100 attendees)
Contact scoring & tagging
Sales funnels (5 funnels)
Work together (3 users)
Webinar funnels (5 funnels)
The PROFESSIONAL plan includes everything in PLUS and more:
Unlimited automation builder
Paid webinars
Webinars (max 300 attendees)
Unlimited sales funnels
Unlimited webinar funnels
Work together (5 users)
On-demand webinars.
The ENTERPRISE plan includes everything in PRO and more:
Transactional emails (paid add-on)
Account manager
Dedicated IP address
Deliverability consulting
Single sign-on (SSO)
Webinars (max 500 attendees)
Email campaign consulting.
If you are a beginner marketer I would suggest starting out with the Basic plan, and when your business starts to grow you can update to another more suitable paid plan.
The sign-up process
The sign-up process is pretty straightforward and quick. All you have to do is provide your name, email and chose a password for your GetResponse trial account. If you are happy with this service you can update to a paid plan as soon as the free trial expires.
Customer support
There is a highly skilled team of experts to help you 24/7 in many different languages. You can contact the customer support by phone, email or live chat.
Pros of the GetResponse Email Marketing Service
Excellent for beginner marketers.
They allow affiliate marketers (this is one of the few email marketing services to allow affiliate marketing campaigns – most of other services are reluctant to accept affiliate marketers promoting affiliate marketing products or services).
30-days free trial offer (no credit card needed!).
User-friendly and straightforward interface.
Affordable price.
Customizable e-newsletters.
Landing page creator.
Webinar function.
Funnel creator.
Built-in analytics tool.
Great customer support.
Cons of the GetResponse Email Marketing Service
The only downside of this service is the lack of a refund policy. This is why they offer a whole 30-day free trial period, so their clients can evaluate their tools and services before choosing a paid plan.
Final thoughts
The GetResponse email marketing service is probably one of the best services for online marketers. I have used other email service providers in the past, but none of them had all the features, the affordability, and the user-experience of GetResponse.
Not only does it have a user-friendly interface, but it also offers the flexibility to capture leads and improve conversion rates regardless of your niche. Here you can create email newsletters with custom landing pages for a well-rounded marketing system. You can have your email campaigns set up and sent out in a matter of minutes. Plus, the learning curve is easier than with other email services.
This software is being constantly updated with new features coming out. It, however, maintains the ease of use and affordability, which makes it one of the best email marketing services for both beginner marketers and more experienced users.
If you are looking for a good email marketing service, I highly recommend GetResponse. I am sure it will help you achieve your business goals and increase your chances of long-term success.
Thank you for reading this review and please don't hesitate to share your thoughts in the comment section below.
Wishing you all the best for your online journey,