Choosing the right affiliate network is an important part of becoming a successful affiliate marketer. In this post I am going to go over the main features, pros, and cons of the ShareASale affiliate network. Continue reading the review to find out if signing up to this network could benefit you and your online business.
According to Datanyze, ShareASale is the favorite affiliate network for marketers, leading the industry's market. In fact, ShareASale holds 55.7% of the market share, and next on the list of the largest affiliate networks come Rakuten LinkShare, Avangate, and eBay Network, with 40.64%, 31.08%, and 30.32%, respectively.
What is ShareASale Affiliate Network?

The ShareASale affiliate network is one of the oldest in the industry. It has been in business since 2000 and for a while it was one of the biggest networks online, alongside Linkshare (now Rakuten Marketing), CJ (Commission Junction), and Clickbank.
In 2017, ShareASale was acquired by Awin (previously known as Affiliate Window) but continues to exist as a separate platform and brand.
On ShareASale you can choose from over 3,900 merchants, offering a wide range of products divided into more than 40 categories, including Clothing, Home&Garden, Automotive, Accessories, Books, Education, Health, Family, Art, Music, Photography and other.
Whatever your niche is, on ShareASale you will certainly find great products worth promoting.
Who is ShareASale affiliate network for?
ShareASale is a popular service for brands looking for a way to launch an affiliate program for their product or services. This network is primarily targeting small and mid-size merchants.
On the other hand, ShareASale is a great platform for affiliate marketers, looking for ways to monetize their website and social media channels. It already counts over 700,000 affiliates.
If you have a niche website with some quality content, then joining ShareASale can help you start earning money from it.
This affiliate network is also a great option for more experienced affiliate marketers, who have multiple websites that need monetizing.
The Sign-Up Process
The sign-up process is pretty simple and won't take you more than 15 minutes. Here is what you need to do to become a ShareASale publisher (affiliate).
Step #1:
Go to shareasale.com and click on "Affiliate Sign Up".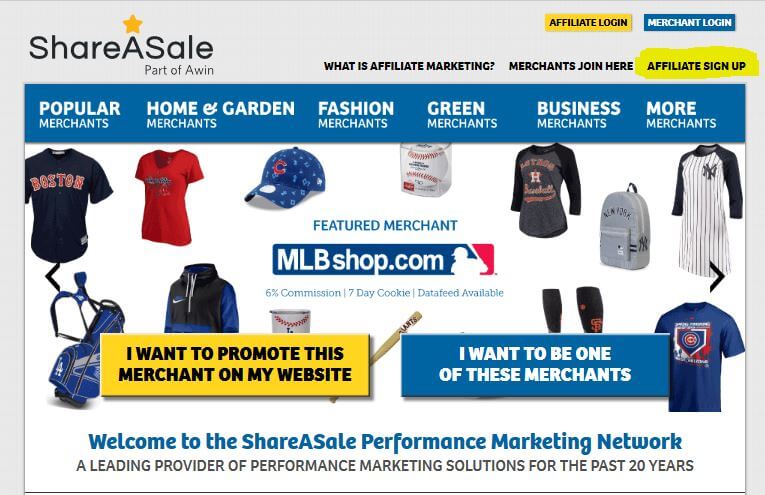 Then choose a username and a password and tell them what country you live in.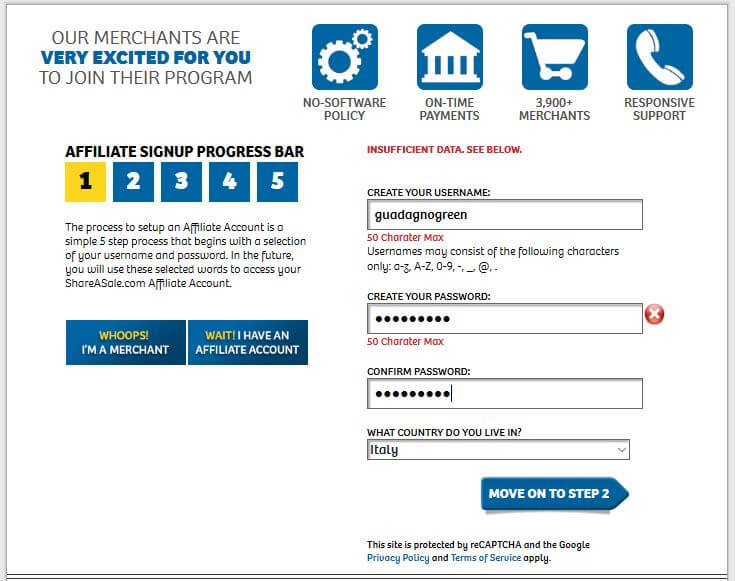 Step #2:
Add your main website information.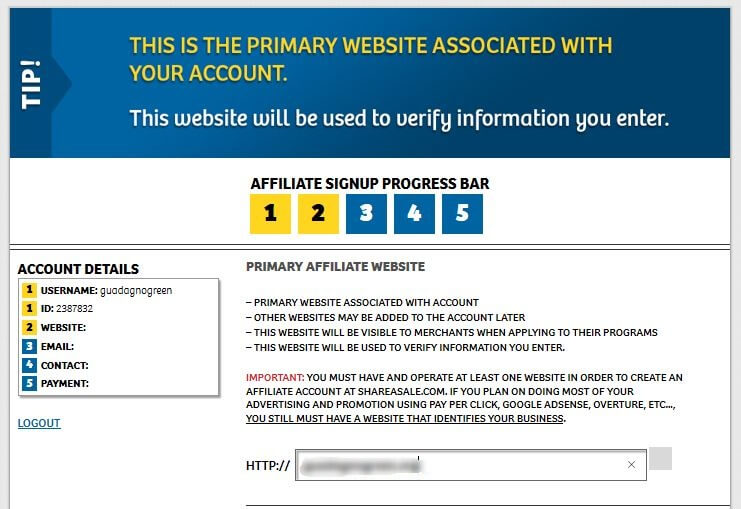 Select the language of your website and make sure to tell them that it doesn't contain any adult content, as ShareASale is pretty strict about the types of affiliate marketing websites they allow on the network.
Strangely, there are several merchants, offering adult products and services listed on the platform under health or education categories. And I must say that I find not accepting adult affiliate websites while accepting merchants selling sex toys, a little bit confusing.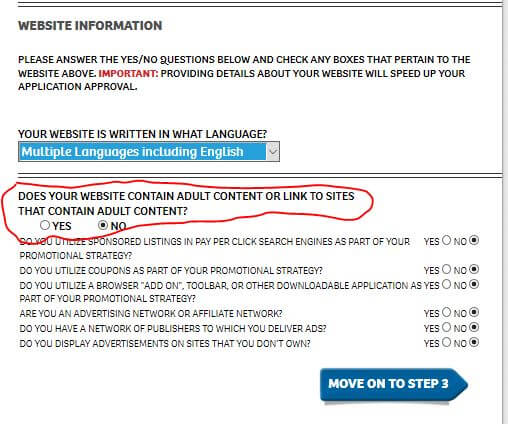 Step #3:
Enter a valid email address that will be associated with your ShareASale account.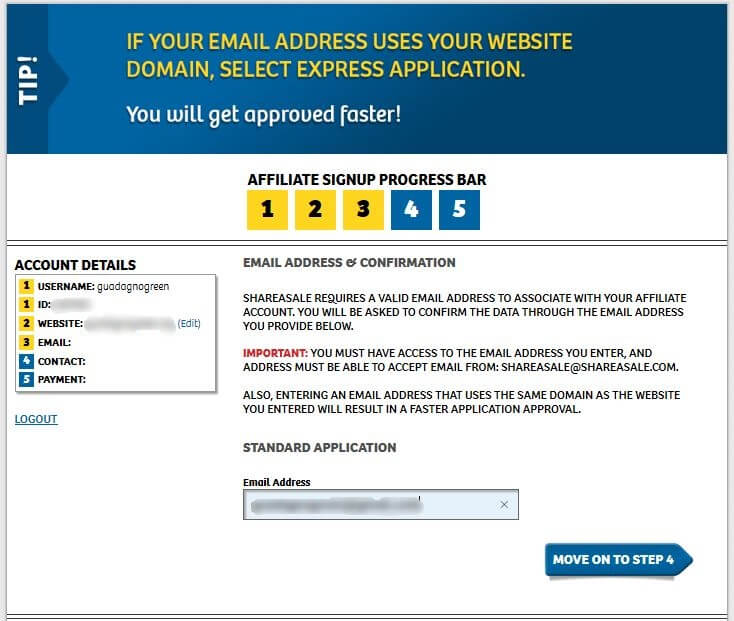 Using an email address related to your website domain (emailaddress@yourdomain.com), rather than a simple Gmail or Yahoo service, may be more effective and help speed up the approval process.
Step #4:
Provide full contact details and information about your website. Make sure to write a description of your website, including your niche and marketing plans. This will help merchants approve your application for the promotion of their products and services.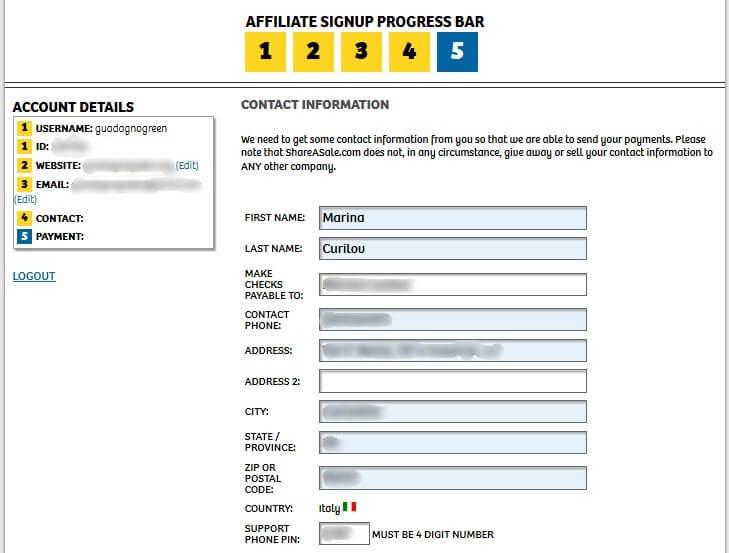 Don't forget to select that your website is not an incentive program and that you are the owner of your website's domain.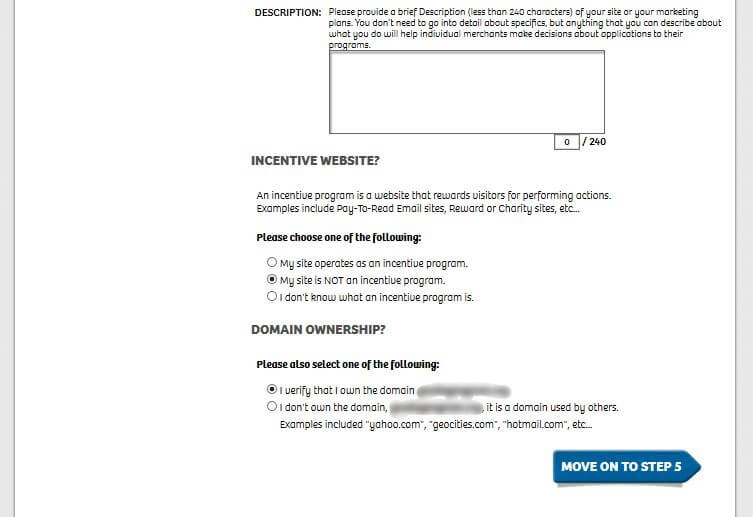 Step #5:
Provide payment information. Select your preferred payment method. You can complete this step later if you are not sure how you want to get paid.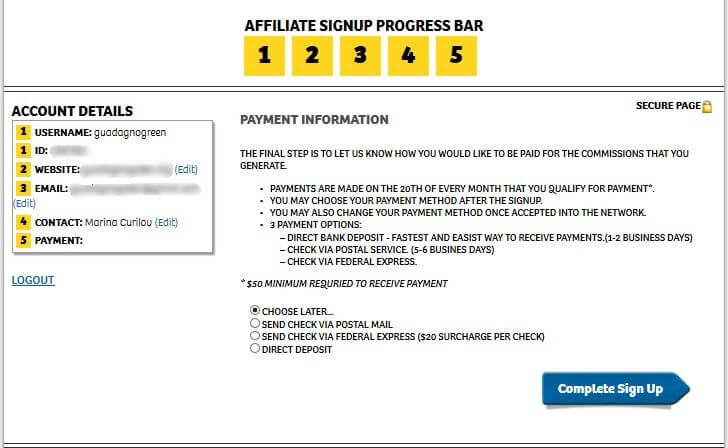 Step #6:
In order to complete your application, you must agree to their terms and verify that the signup information that you provided is accurate.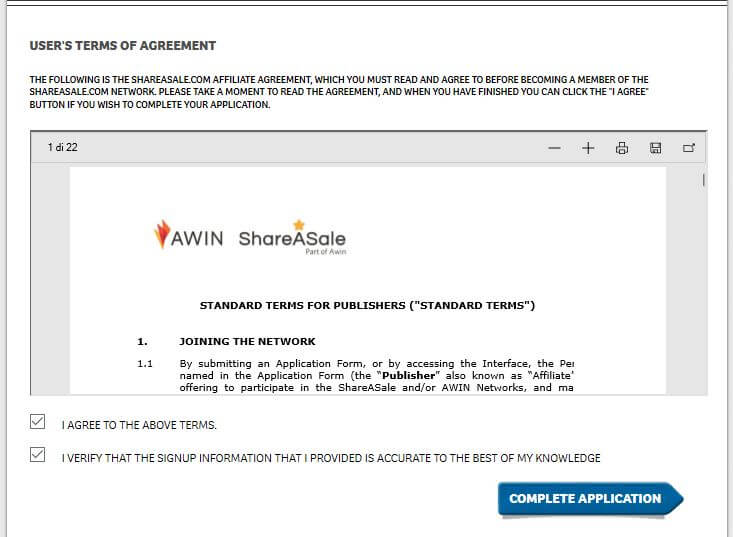 You will be sent a confirmation link to the email address you provided during the sign-up process. Click on that link in order to confirm your application to the ShareASale affiliate network.
It will take up to three business days for the ShareASale team to review your application and decide whether to approve or decline it.
I was approved with a website that had only a few posts and pages and a little amount of traffic, but I guess it will also depend on your niche, not only on the number of visitors coming to your website.
What brands and products can you promote?
Once you get approved, you will be sent a notification to your email and you will be able to connect to your affiliate dashboard.
There, by clicking on the tab "Merchants" you can start researching for products and services to promote on your website.
ShareASale does host big brand names, such as Namecheap, Qatar Airways or WP Engine, but most of the merchants are SME's (Small & Medium Enterprises), which is good news for small website owners. Unlike the big fish, small merchants are more likely to approve you as an affiliate and let you promote their products.
One of the great features of this network is the Power Rank feature, that allows you to sort through the top 100 merchants currently on ShareASale.

How will you get paid?
The minimum withdrawal balance is $50 and payments are issued on the 20th of each month, based on a net 30 model. This means that you will get paid on May 20th for any sales you made up to April 20th.
The payments are made via bank deposits or checks.
ShareASale Affiliate Network – The Pros
#1- ShareASale has a good reputation:
20 years as one of the leading affiliate networks is a clear sign that ShareASale is a reliable platform for both merchants and affiliate marketers.
#2 – The sign up is free and easy:
You have already seen how easy and straightforward the application process is. Plus, becoming a member of the network is completely free of charge.
#3 – A great variety of brands and products to promote:
ShareASale boasts an incredible number of products and services to choose from. Whatever your field of expertise and your niche, this affiliate network has you covered.
#4 – Can be used by affiliates with multiple websites:
Once approved to the network, you can add other websites to your affiliate account, besides the primary one mentioned during the application process.
#5 – Easy-to-use and efficient merchant search functions:
ShareASale has awesome search features for merchants. You can use the power rank feature or you can simply filter your searches by keywords, categories, sale commissions, merchant status, etc.
#6 – Customized deep linking:
Besides the opportunity to create deep links, ShareASale also offers the possibility to add a tracking value to every link and to shorten these usually long links.
#7 – Different reporting features:
ShareASale offers a great variety of reporting features, that can help you track and monitor all your affiliate links and conversions. Not only there are advanced general reporting features, but you can also create customized reports to highlight the specific metrics you wish to see.
#8 – Responsive Customer support
The customer support is fundamental when it comes to working with an affiliate network. ShareASale has great customer support for both merchants and affiliates and, in case of doubts or issues, you can contact them by email or phone from 9:00 AM to 6:00 PM Central Time.
There is also a comprehensive FAQ section on the website.
#9 – Continuing education and webinars
The great thing about ShareASale is that it offers continuing education to new and more experienced affiliates and merchants. The best practices series, alongside with the opportunity to watch training webinars and to access educational resources, will help you improve your affiliate marketing skills.
From affiliate marketing classes to monthly newsletters, the ShareASale team is keeping you up to date on the affiliate marketing industry and on the tools and features that will help grow your earnings.
ShareASale Affiliate Network – The Cons
#1 – High payout threshold:
As an affiliate you will have to reach the minimum account balance of $50 to get paid by ShareASale. This is a bit higher than other competitors, although there are also affiliate networks where the minimum payout threshold reaches $100.
#2 – No PayPal option:
Unfortunately, ShareASale pays only by direct deposit or check, which can be a turn-off for many new affiliates.
#3 – Some merchant programs may be deleted without warning:
It may happen that some merchant programs may be deleted, without sending the affiliates a warning. In this case your affiliate links may become useless and make you waste valuable traffic.
You should always keep an eye on stats and reports, until ShareASale fixes this problem.
#4 – The customer service interface needs an overhaul:
The customer service interface and the FAQ section look old and need to be freshened up a little.
Conclusion
The ShareASale affiliate network is surely one of the most reliable and popular options for small website owners looking for effective ways to monetize their traffic.
With its ups and downs, this platform is still among the leading industry players. It's free to join, easy to use, and has over 4,000 programs to choose from.
In concluding this ShareASale affiliate network review, I would also like to add that the programs listed there have some of the highest commissions among other competitor networks, which is pretty exciting especially if you are a beginner blogger and affiliate.
Have you had any experience with this network? Please share it with me in the comment section below.
Oh, and if you enjoyed this review, don't be shy about spreading the voice on your social media, so other people can benefit from it too.
Thank you,