The health and wellness industry is one of the fastest growing markets worldwide. If you have a health blog, then this Health Trader affiliate network review will help you monetize it and get the best commissions on the market.
The health and wellness industry growth rate is 6.4% yearly, which makes is one of the most profitable niches for an affiliate marketer. As a health blogger you have so many options to monetize your website, and the affiliate network I am about to introduce in this post, is probably one of the best choices for beginner affiliate marketers, as the process of approval is fast and they usually don't require websites with a lot of content.
Health Trader Affiliate Network – Platform Overview
This was one of the first networks I signed up with when I started my first health blog pancialeggera.com. I remember I felt somewhat discouraged by the fact that other affiliate networks required experienced websites with a lot of content and traffic. Imagine my relief when I stumbled across a Health Trader review and then signed up with them. I was able to start monetizing my website, even though I was still at the beginning of my journey online!
This London based company targets markets all around the world and offers an interesting range of products and services.

What kind of products do they have?
The Health Trader affiliate network is a relatively small network, if compared to other similar networks, offering a limited number of products, but since they are covering a wide range of health issues, you can easily find some products to actively promote on your website.
The Health Trader network is specialized in promoting mostly two kinds of offers:
#1 Specific Food Supplements
You will be approved automatically to promote them once you sign up.
The food supplements listed on this network are 100% natural and you can choose among the following products:
#2 Online Medical Clinics
Here your readers can consult with physicians and purchase prescription drugs online. You will need to apply manually in order to be approved.
These are some of the online healthcare providers included in the Health Trader offers:
121 doc
euroClinix
HealthExpress
OnlineClinic
Meds4all
What markets do they target?
The products offered on the Health Trader platform target markets worldwide in up to 25 countries:
United States
United Kingdom
Argentina
Australia
Brazil
Canada
China
Egypt
Hong Kong
Iceland
Indonesia
Japan
Malaysia
Mexico
Monaco
Montenegro
New Zealand
Paraguay
Peru
Philippines
Serbia
Singapore
Switzerland
Thailand
Turkey
What commissions do they offer?
One of the greatest advantages of this affiliate network are the generous commissions you will get if people buy through your affiliate links.
For supplement products the commissions range from 40% to 50% per sale.
For medical services you will get 13-17% commissions.
How do they pay?
You can choose to be paid via PayPal or International Bank Tranfer. For PayPal the minimum threshold is £100 and for the Bank Trasfer you have to reach £200 or equivalent currency.
Provided you have reached the minimum threshold balance, you will be paid within the first 3 working days following the 1st and the 15th of the month. You can edit your payment preferences by clicking the Account tab.
How to apply?
The application process is fairly simple.
Keep in mind that once you sing up, you will be automatically approved to promote all of the supplements listed on the platform.
Here is how you sign up:
Step #1: Go to https://www.healthtrader.com/us/ and click on "Become an Affiliate".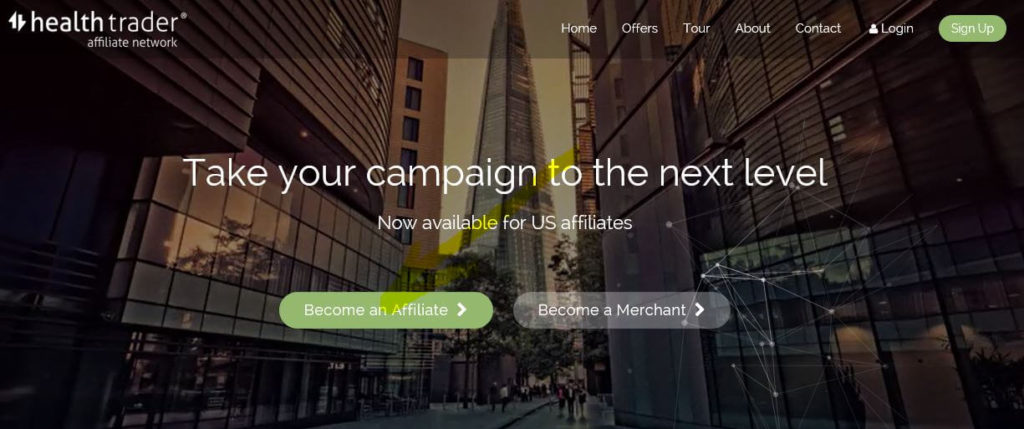 Step #2: Fill in the sign-up form with your name, surname, email address and password to access your Health Trader dashboard.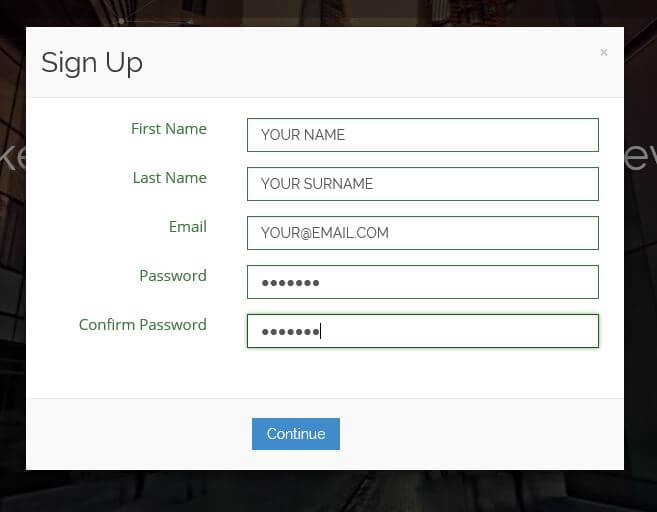 Step #3: Add your account details, such as your address, city, country and phone number
Step #4: Add your account preferences and promotional information by selecting preferred currency, time zone, the markets of interest and marketing tactics. Write the link to your website and accept the Terms of Service and the Privacy Policy. Don't forget to do the captcha before clicking on "Save and Get Started".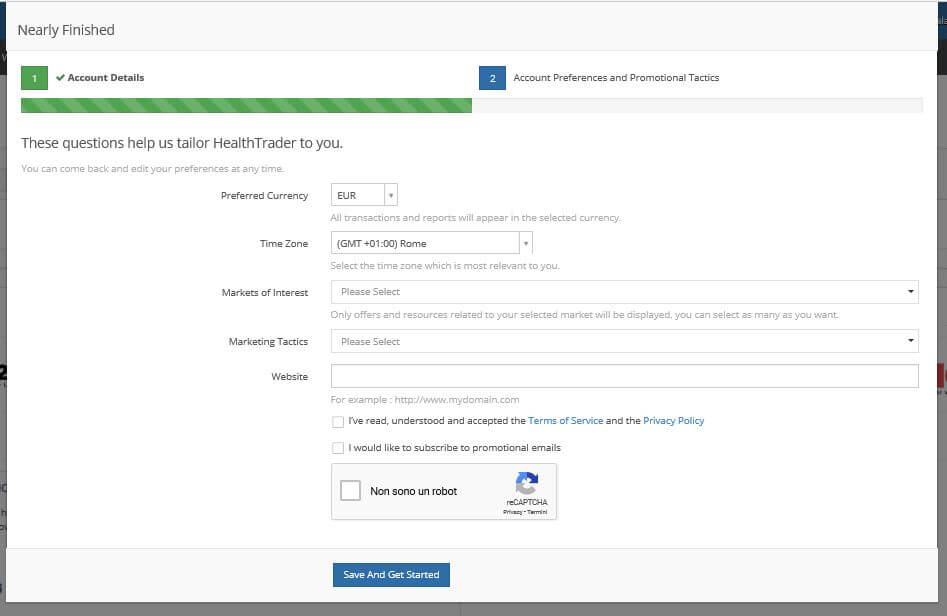 That's it, in less that 5 minutes your account is ready and you can start monetizing your website.
Where are the affiliate links for your website?
You can access all the offers and promotions directly from your dashboard by clicking on the "Offers" tab.

Choose a product you want to promote and click on it.
Let's say you're interested in promoting the "Blood Pressure Support" supplement. By clicking on the name of the product, you will have immediate access to all the information regarding it's uses, benefits, and ingredients. You will also be given a selection of banners and images to chose from (check the menu on the right).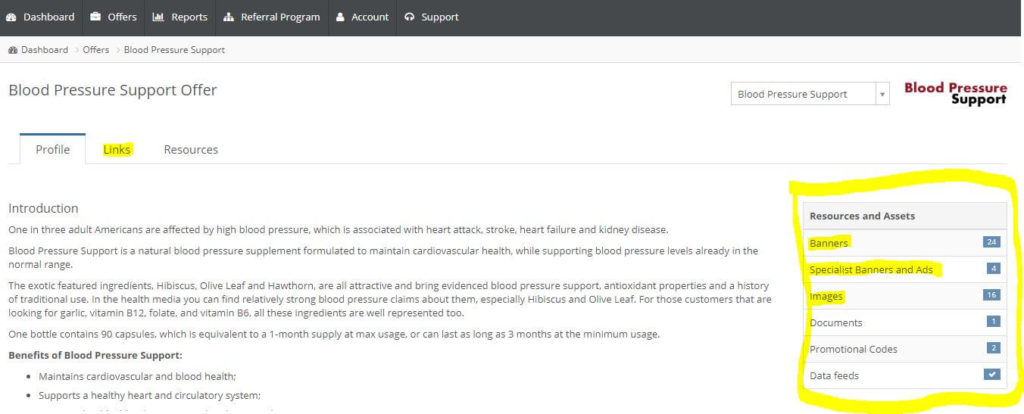 And by clicking on the tab "Links" you will be able to create your own custom affiliate links and place them on your website.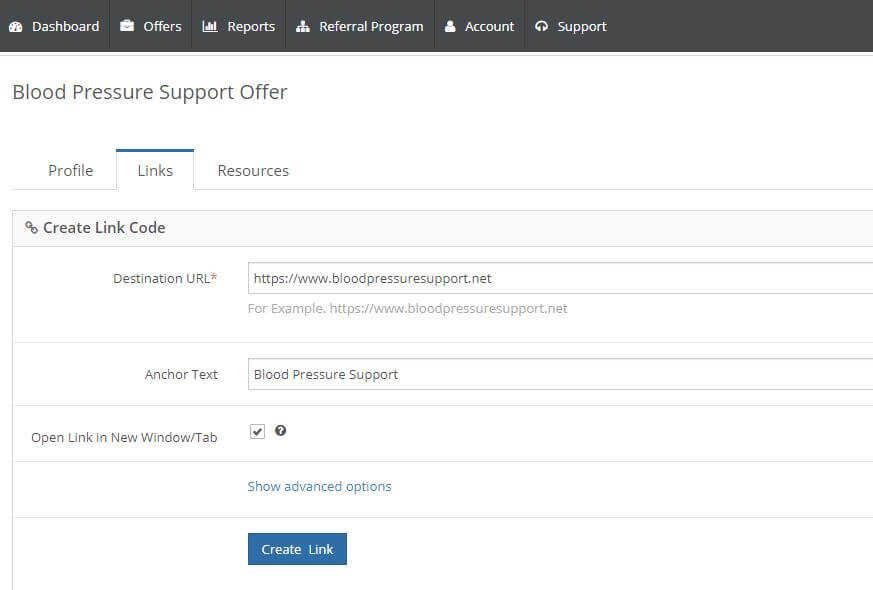 Who is the Heath Trader Affiliate Network for?
Both beginner and more experienced health & wellness bloggers can benefit from promoting the products listed within the Health Trader affiliate network.
They also have a referral program, so you have an extra opportunity to earn by inviting other affiliates to sign up with this network.
Health Trader Affiliate Network Support
If you have any questions or any issues that need to be solved, you can contact your affiliate manager directly by email, Skype or phone (you can access the contact information within your dashboard). You can also start a live chat with an operator online.
However, to help you get started, click on the "Support" tab in the main menu of your dashboard. There you can access all the information and the FAQ regarding the platform, the offers, the affiliate links, the promotional codes, the payments and the tracking.
The PROS of Health Trader Affiliate Network
Free sign up
Fast approval process
High commissions
Natural, high-quality health products
Most of the supplements are made in the US within FDA registered facilities that follow GMP guidelines
Intuitive and easy-to-use
Great support
Great for beginner bloggers
No fees for processing payments
Referral program
The CONS of Health Trader Affiliate Network
Limited number of products
Limited number of markets
Conclusion
Here we are at the end of this Health Trader affiliate network review, so let me just spend a few more words about this platform.
I would really recommend this legit platform to newbie health bloggers, although I think that more experienced marketers can also benefit from promoting the products and services of this affiliate network.
It's intuitive and beginner-friendly dashboard will help you start monetizing your website in no time; and the high commissions will give your motivation a good boost.
I would also highly recommend signing up with Wealthy Affiliate, the only platform that has all the training and all the tools you need to succeed all in one place. This is my absolutely #1 recommendation for all newbie marketers, as you will be taken step-by-step through the whole process of building a successful business online from scratch.
1,800 expert coaches and 1,4000,000 members will give you all the support and the motivation you need to reach your goals of financial freedom. Plus, it's free to start and you don't need a credit card to sign up. You can read more about this platform in my Wealthy Affiliate – Honest Review.
Drop me a comment if you enjoyed this post or if you have any questions; and don't forget to share it with your friends, so other people can benefit from it as well.
Wishing you all the best of luck and success,