With the globalization, we are witnessing and with the world in constant evolution, learning a foreign language becomes more and more a necessity rather than a simple curiosity. In this post, I will focus on what is the best way to learn a new language. I will be introducing you to Babbel – one of the most popular systems in the world.
Continue reading this review to find out:
what makes this app unique among the others of its kind;
what are the advantages of Babbel compared to other apps for learning languages ​​(even free ones);
what the Babbel method consists of;
how much Babbel costs and if it worth the subscription;
if Babbel really works.
Let me first say that, I have experience in teaching languages ​​and I am not talking about private lessons only, but for years I have worked in various language schools both here in Italy and in my country of origin. This increased my curiosity to find out more about the most advertised language teaching system ever and I must say that when I started digging deeper, I was pleasantly surprised.
So, let's start off with this Babbel review.
Babbel was founded in 2007 and, with more than one million active users at the moment, is the leading company in the online language learning niche.
Babbel's courses are structured in a way that allows users to develop conversation skills right away, which is unlikely to happen with other apps or classroom courses. 73% of users have even declared that they are able to hold a conversation after only 5 hours of using the Babbel app. It is a truly impressive figure.
Let's see in more detail what Babbel's unique method consists of.
The unique system of Babbel

The method used by Babbel is one of the most effective methods of learning languages ​​because it is based on some very important principles:
1 – Short lessons
The duration of the lessons is about 15 minutes and this is a huge advantage for those who have little time available during the day.
Very often we give up on doing something to improve our skills and abilities mostly because of lack of time. Our everyday life is so full of commitments (family, children, work, household chores etc.) that finding a few hours to devote to oneself becomes a mission impossible.
But thanks to Babbel it is possible to learn a language from scratch even when you have very little time.  You can follow the lessons even while you are carrying out your normal daily activities or you can take advantage of the so-called downtime, such as travelling on public transport, waiting in the queue at the post office or at the bank, during the lunch break, on the plane, in the doctor's waiting room etc.
2 – Excellent user experience
Babbel is an easy to use and intuitive app, perhaps one of the best of its kind. The design is very nice, but at the same time functional and manages to ward off those moments of boredom, which can attack us while we are trying to learn something new.
This is a very important feature, especially when it comes to learning a new language.
3 – Content created by native speakers
Most language learning apps use software to create combinations of words or phrases, which allows them to drastically lower costs and often offer users free use of the apps.
In the case of Babbel, on the other hand, more than 150 native speakers, specialized in linguistics and language teaching, are employed, another feature that makes this app truly unique.
Users have more than 100,000 hours of content created by a team of professional experts and continuously updated.
Not only. In building its courses, Babbel also takes your native language into consideration and tries to make the most of the affinities with the language you want to study. This way you get a personalized study journey, which helps you learn the new language faster.
Another aspect that I would like to mention is the approach to grammar, which has nothing to do with the way grammar is taught in school. Babbel focuses rather on the conversation and makes you do a "full immersion" in the language you want to learn, presenting the grammatical explanations in an interesting and easy way for anyone to understand.
4 – Review function
Repetition is another fundamental principle in the study of languages. With Babbel, repetition also becomes fun. The system itself offers you to review the words you have learned, in order to reinforce what you have previously learned. All this while keeping the steady rhythm, typical of the Babbel method.
5 – Speech recognition
Babbel has an integrated voice recognition system, which helps you practice and refine your pronunciation. This helps in increasing security and eliminating the fear of speaking.
How are Babbel courses structured?
Registration is free and fast – just enter your email or log in with your Facebook account. Once logged in, you will be asked to choose the language you want to learn and you will be offered a free entry test to establish the level of your knowledge. After this, you will have access to a trial lesson (FREE) that will allow you to better understand how the Babbel app works and how the lessons are structured.
After this first free trial lesson, if you are satisfied, you can switch to the paid version, which allows you to continue learning with the rhythms and methods you prefer. We'll talk about Babbel's costs and subscriptions later.
Babbel's courses are based on the Common European Framework of Reference for Languages ​​(CEFR).
Another key aspect of this app is that the courses are structured differently for each language combination. An Italian learns English differently than a German does, and this the Babbel team of experts knows very well and takes it into consideration when creating the lessons and your personalized study path. This approach is used for each of the four language skills: reading, writing, listening and speaking.
What sets Babbel apart from other apps is the fact that the courses are created on the basis of realistic conversation exercises and dialogues. In fact, you will only learn words and phrases that are used in everyday life.
Babbel's lessons are also structured by topics. Once you have learned the basics of the language (if you are a beginner), you can move on to more specific topics and choose the one that interests you most among travel, work, culture, cuisine, family, nature, etc.
Babbel courses are not structured in levels to be passed necessarily, once you subscribe you will have access to all the contents of the language you want to learn.
The lessons are composed of easy exercises in which you have to listen and repeat words or sentences, form words with anagram letters, exercises with multiple choice answers, or exercises in which you have to fill in the empty spaces.
During each lesson you will learn 10 new words, which you will have to pronounce correctly with the help of the voice recognition function.
How many languages ​​can you learn with Babbel?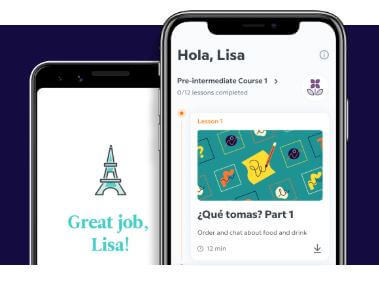 Babbel currently offers courses in 14 languages:
English
Italian
German
Spanish
French
Portuguese
Swedish
Turkish
Dutch
Polish
Indonesian
Norwegian
Danish
Russian
Learn English with Babbel
The English course is perhaps the best one ever and includes lessons for beginners, intermediate and advanced (comparable to level C1 in the European context). In addition to these basic courses, Babbel also offers a Business English course where you will learn about marketing, human resources and how to speak on the phone.
In addition, as far as English is concerned, you will also find free supplementary materials from other sites that will help you build a truly excellent personalized learning path.
Thanks to the collaboration with Cambridge English you will also have the opportunity to obtain, at the end of the course, a certificate of proficiency in English, which you can insert in your Curriculum Vitae.
Learn German with Babbel
German courses are also very popular among users, especially American ones, given that German is a highly studied language in the United States. The lessons are very interesting and well done and offer a complete study path, without the need to attend private offline courses.
How much do Babbel language courses cost?
I have to admit that when I saw the prices for Babbel subscriptions, I was amazed because I expected much higher prices, given the quality and diversity of the content offered within the platform. Here's how much Babbel costs:
€ 9.95 – monthly subscription;
€ 19.95 – 3-months subscription (€ 6.65 per month);
€ 33.30 – 6-months subscription (€ 5.55 per month);
€ 59.40 – yearly subscription (only € 4.95 per month).
The most popular ones are the 6-months and yearly subscriptions, which allow you to study a language with really only a few cents a day!
Why choose Babbel courses?
Babbel language courses are courses for everyone. It really is the right answer to all the excuses: lack of time, lack of money or that one is not inclined to study languages. The creators of Babbel have found a way that allows everyone to approach a foreign language without making too many sacrifices. Here are all the pros of Babbel courses.
The benefits of learning languages ​​with Babbel courses:
Short, easy-to-follow lessons that allow you to study wherever and whenever you want.
Accessibility from any device and the possibility to download lessons so that you can study even in the absence of an Internet connection.
Excellent user experience and ease of use.
The courses are created by real native speakers and not by automatic software.
Topics of great use – you will only learn practical things, which are used in everyday life since the courses are based on real dialogues with the participation of real native speakers. This way you will have real contact with the language you want to learn.
Money-back guarantee – this is another proof of the fact that the creators of Babbel are convinced of the effectiveness of their method, so much so that they even offer a 20-day money-back guarantee if the app does not meet your expectations.
It is an app suitable for everyone, regardless of age or level of education.
Really low costs – whatever subscription you choose, you won't find another solution online or offline, which can offer you the same quality content and guarantee the same results.
Tangible results in a short time – already after a few hours of using the Babbel app you will be able to have a basic conversation.
Babbel – the cons:
Babbel is not suitable for those interested in studying a more literary language, because it offers only words and phrases used in the "living" language, that of everyday life.
Some of the rarer languages, such as Turkish, Indonesian or Russian do not have the same wealth of content that characterizes the courses of the most "popular" languages, such as English, German, French or Spanish.
What is the difference between Babbel and free apps?

If you've ever used free apps to study languages ​​(an example of all is Duolingo), you may be wondering what difference there is between them and Babbel, which is not free. Is it really worth paying for something that you can get for free from another app?
The answer is: yes, it's worth it. First of all, because the free apps do not use the skills of native speakers, but rather generate their contents automatically, based on often obsolete algorithms.
This also applies to the pronunciation of words, sentences, and conversations. In free apps, the pronunciation is generated by computerized voices (to cut costs), while Babbel uses real native speakers.
But does Babbel really work?
An internal Babbel survey showed that 73% of users think they are able to have a basic conversation after 5 hours of using the app, while other users feel they can talk to native speakers discreetly after a few months of learning.
There are also many positive external reviews, which attest to the quality and effectiveness of Babbel courses.
Here are some of the most recent reviews: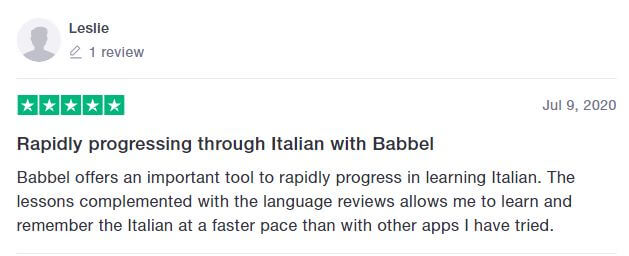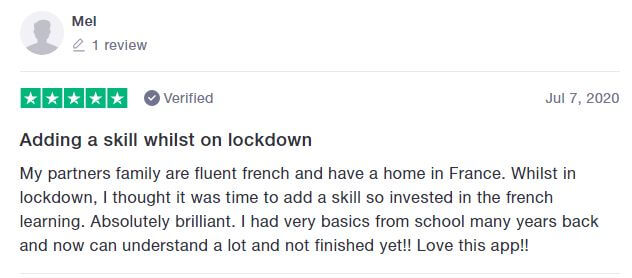 Conclusion
Still wondering what is the best way to learn a new language? Learning languages ​​with Babbel courses is faster and easier than ever. As you have seen from this review, Babbel is a solution suitable for everyone, not only thanks to its teaching method, developed by real native speakers and which offers a personalized path for each user, but also thanks to the very low cost, which makes its courses accessible even for the smallest pockets. Even more so if you choose a six-months or a yearly subscription.
Babbel's enormous popularity is not only due to the excellent marketing campaign, but above all to the high quality of the product they offer. It is difficult to find another solution that can offer the same flexibility, quality of content, personalization of the study journey and accessibility that Babbel offers.
Thank you for reading this Babbel review to end and don't hesitate to share with me your experience with language learning apps in the comment section below. I would love to know what you think.