In this post I am going to show you why you need a website in order to make money online and how to build a website for free in just a few clicks. You will see how easy it is to have your own website online and will learn the exact few steps of building a site for free.
But first let me explain why you need a website after all. You have probably heard and read a lot of stories of people making money online without a website. While there are some ways you can earn a bit of cash without a website, they will never allow you to build a successful business and a long-term passive income online.
Here are a few reasons why you should build your first website today.
7 Reasons You Need a Website to Make Real Money Online
#1 A website allows you to build passive income online
Your website is the foundation of your business online. Once your website starts growing it will begin to generate revenue and passive income. Everything you post on your website, stays online and continuously attracts visitors, that will convert into becoming paying customers.
#2 It's a way to start your own business for free
Starting a business can be expensive. Most of the people don't have all the money it takes to invest to get their business up and running. You need to lease a business space, hire employees, create a product, purchase supplies etc.
Becoming an online entrepreneur is a great alternative. With little or no cost, you can start building your own business online and earning money. You can have your own business space for free online and to make money you don't even need to own or create any products. If you decide to become an affiliate marketer, all you have to do is promote other people's products on your website and get paid when someone buys them.
#3 A website will help you build a brand and credibility online
A website is a showcase. It's also a valuable communication tool. You can interact with the people visiting your website and help them get to know you better. Plus, the more valuable content you will publish, the more people will trust you and will follow your advice. This will establish you and your website as a brand and will help you build a solid credibility online. This is very important if you want to build a successful long-term business online.
We never buy from people we don't trust, so having your own content-rich website is a great way to build authority.
#4 A website is online 24/7/365
With a website you are not limited to the 9-to-5 schedule. You can reach a wide audience at any time of the day and night, and provide valuable information to your visitors 24 hours a day.
#5 A website allows you to reach people all over the world
One of the greatest advantages of having a business and a website online is that there are no limits as to how many people you can reach worldwide.
According to Statista there are 4,5 billion active Internet users, encompassing 58 percent of the global population. Can you imagine the potential in terms of website visitors (traffic) and, eventually, revenue?!
#6 A website can help you build an e-mail list
One of the most important aspects of building a long-term business online is having an e-mail list. An e-mail list is a database of visitors who showed interest in your website and want to receive future updates and promotions. Most of the Internet businesses nowadays rely on e-mail marketing as an effective communication tool. It helps maintain the relationship with your readers and transform them into customers.
By putting opt-ins on your website, where people can sing up for future updates, you increase your visibility and your chances to grow your income for the future.
#7 A website is one of the cheapest and most effective forms of advertisement
Having a website helps you reach out to maximum audience in the most targeted manner. It's a much less expensive way of promoting your business and your brand, than printed media, radio or television.
So now that you know why a website is the foundation of your existence online, let's dive into the step-by-step process of building a free website online.
How to Build Your Own Website for Free: the 6-Step Process
As the title suggests, building a website is really not a big deal. If you are a beginner and have no coding knowledge, don't worry! It will take you ONLY 4 clicks and 30 seconds to have your own website online. All this because you will be building your website with the fastest online website builder in the world! And it doesn't require any programming skills!
Step 1: Sign-up for your FREE Membership
You will be building your website with the Wealthy Affiliate website builder and you will need to register first. Sign up for your free membership by clicking on the button below:
==> Read more about Wealthy Affiliate HERE <==
Step 2: Select "On a Free Domain"
Go to the Site Builder by clicking "Websites" on the left panel of your WA dashboard.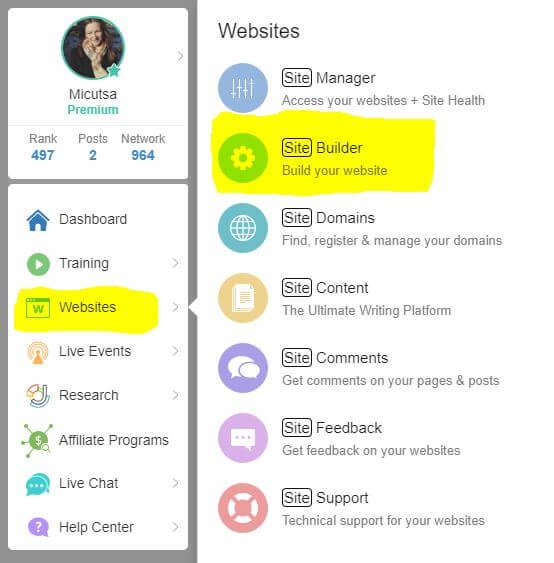 You will see three options and you can choose to build your website:
On a free domain – Wealthy Affiliate gives you the possibility to build 2 free websites with a FREE membership and 25 free websites with a Premium membership.
On a domain you already own – if you already own a domain name you can choose to build and host your website at WA.
On an instantly purchased and registered domain – by clicking on this option you will be able to instantly purchase a custom domain and then build your website directly on the WA platform.

Since we're building a free website, click on the first option.
Step 3: Choose a domain name for your website

Enter a domain name that you like most. It may reflect your niche of interest or your name or a keyword.
Step 4: Enter a Title for your website

Remember that you can always change your website's title, if you want.
Step 5: Choose a design for your website
Choose a theme that you like most from the options you will be given within your WA membership.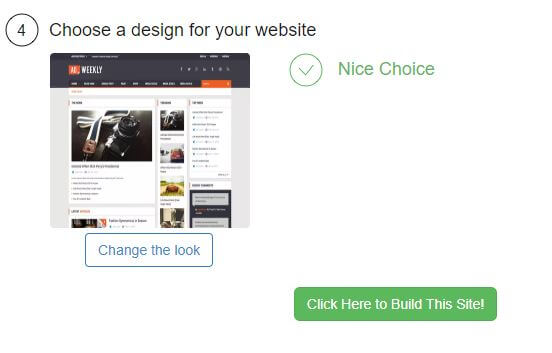 Step 6: Build your site
Click the button "Click Here to Build This Site" and that's it! Congratulations, you now have a website! And it only took a few clicks and less than a minute to build it.
With Wealthy Affiliate your websites will be hosted on the latest highly secured web hosting technologies. With so many other cheap or free web hosting platforms your sites can be easily attacked or hacked by bots. With WA your websites will be highly secured, automatically backed up and highly optimized for WordPress (the engine behind your websites). 
Take a look at this short video that Kyle, one of the founders of Wealthy Affiliate, has created for you to see how easy and fast it is to build a website within WA:
Conclusion
It can't be any easier! Now that you know how to build a website for free, don't let any doubts and fears stop you from pursuing your goals and dreams.
The first step to building a successful online business is building a website. It takes less than a minute to make that step, but it could become a real life changing decision. If you decide to become a member of Wealthy Affiliate you will have access to the Online Entrepreneur Certification Training, where you will be guided through the whole process of building a successful business online, websites included. I have written this post just to show you how easy it is. It's really within everyone's reach to build an income-producing website.
Click on the button below to create your free account and start your training today!

Thank you for reading and, if you find this post helpful or have any questions, drop me a comment below! I'd be happy to help!