When I first joined Webtalk as a beta tester about a year ago, it already had over 1,9 million users. Today over 4,4 million people are using Webtalk already.
Last month only, approximately 490,000 people have joined Webtalk with 377,000 active members, and Webtalk is now ranked in the TOP 10,000 sites in the US and the TOP 18,000 in the world by Alexa.com.
The platform is expanding and improving day by day, there are new features coming out and the users are getting more engaged. This is due to the ground-breaking technology that allows you to filter your news and content, and to manage your contacts in a really personalized way. But this is not all. There is another huge advantage that the webtalkers have access to – an opportunity to earn money.
Keep reading to find out how to make money online with Webtalk.
What makes Webtalk different from the other social media networks?
Webtalk is like LinkedIn plus a personal network and with features of Twitter, Dropbox, YouTube, and Instagram all-in-one.
There are several features that make this social network stand out from the others:
The possibility to manage personal and professional contacts all in one place:
Webtalk was launched as a unique alternative to both Facebook and LinkedIn. Webtalk allows you to manage both your personal and professional contacts separately and on the same platform.
When adding a new person to your following you can choose the type of relationship and add other variables that will help you manage your contacts more effectively.
The possibility to filter the news:
Webtalk enables you to create a news feed of whatever content you want from whoever you want, through revolutionary data organization, filtering, labelling and search technologies.
The opportunity to make money from being social:
Webtalk is the only social network that allows its users to earn from sharing content, interacting with other members, or inviting people to join the platform.
READ MY FULL REVIEW OF WEBTALK===>READ MY FULL REVIEW OF WEBTALK<===
There are, in fact, several ways in which you can start earning real money with Webtalk. Let's talk about them in detail.
How to make money online with Webtalk?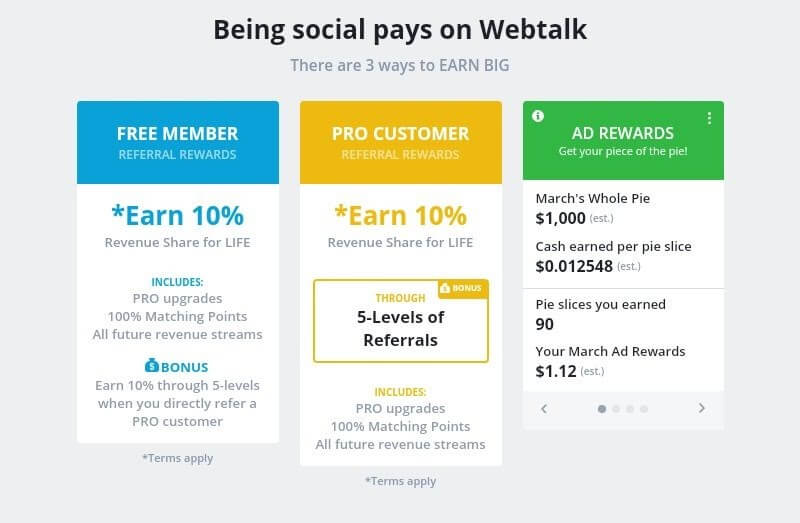 #1 Referral program (SocialCPX):
Webtalk has a very interesting affiliate program. They offer the opportunity to earn a 10% commission paid through 5 referral levels (that's a total of 50%!).
In order to qualify you need to:
Complete your profile: There is a "Completeness Meter" tool on your profile. Once the meter reaches 100%, you are qualified to earn commissions from the revenue generated by your direct referrals to Webtalk.
Go PRO or refer a PRO customer: Inside Webtalk, your referrals will be encouraged to upgrade their free accounts to a PRO premium account. When one of your referrals upgrades to PRO or you upgrade your own account, you unlock your 2-5 referral levels.
Be in the 1st 1 million: The first 1 million affiliates, who will upgrade their account to PRO or refer 1 PRO customer will earn the 10% commission plan paid through 5-levels every month for as long as you remain qualified.
Those who join Webtalk after Beta and after one million 5-levels-for life positions have been filled, will earn on their first level of referrals only.
​#2 Ad Rewards Pool (beta version)
Webtalk decided to give away 50% of the revenue they generate from ads to their members.
The more daily engagement Webtalk acquires, the more revenue they generate from ads, and the more they give away to their members every month.
This unique cash rewards program pays real money every month for engagement and content sharing. You will also be paid if your referrals create engagement and popular posts on Webtalk.
Watch this short video about Webtak's cash rewards program:
Since Webtalk Ad Rewards is a pool, the members who have the largest and most engaged referral networks will earn the most points daily.
#3 Ad Platform (coming soon)
Webtalk is planning to launch a Self-Service Ad Platform, allowing all Webtalk members to purchase Webtalk ad space and run targeted ad campaigns like Facebooks Ads. When you refer a business, you will be able to earn 10% of their ad budget as your commission (even if they are spending $1MM/month or more!).
#4 Marketplace (coming soon)
Webtalkers will soon be able to buy and sell products and services directly on Webtalk. You will be able to earn commissions when the people in your referral network buy things from the marketplace. You will have the opportunity to earn on purchases by your direct referrals and will also earn from all 5 tiers of your referral network if you are qualified for the bonus.
#5 Travel (coming soon)
Webtalk partnered with Priceline and is planning to launch a new travel site soon. All Webtalk members will have the opportunity to both find the best deals on Hotels, Flights, Car Rentals & Travel Insurance, and earn whenever their referrals make a purchase on the travel platform.
This way you can earn cash rewards on every flight, hotel and car rental purchase.
#6 Swag Store (coming soon)
Webtalk is also planning to open a Webtalk Swag Store, where you can get your own t-shirts, affiliate marketer business cards, hats and more. You will also be able to earn a commission if your referrals make a purchase from the Swag Store.
How will you be paid and how often?
From the end of June 2019, you can register as an Affiliate on Webtalk and will be paid whenever the balance reaches $100 (unless you are a U.S. entity having to complete a 1099 form, in which case it is $600).
You can choose to be paid directly to your bank account or through other payment methods, such as Payoneer, Paypal (coming soon), Crypto currency (coming soon), Stripe (coming soon) or other. You can always refer to your Referral Dashboard for details.
Webtalk is now partnered with Payoneer to offer cash rewards to more than 200 countries around the world.
Conclusion:
Webtalk is really one of a kind platform, not only because of the revolutionary technology it uses to provide its members the best user experience, but also thanks to the numerous incentives offered to every new webtalker.
What most distinguishes this social network from other "competitors" is the opportunity to get paid for being social.
There are different ways in which you can make money online with Webtalk and today its members are already getting paid for referring other people, for posting engaging content and for interacting with other webtalkers.
I think that this platform has a huge potential in terms of earning money, and once the beta testing phase is over and all the other services and platforms are up and running (ad platform, marketplace, travel platform, swag store…), the members will have really amazing opportunities to make money and create passive income streams. And you will want to be there when it happens! So, click on the button below to grab your free invitation and sign up now to discover all the features and advantages of being a webtalker.
Thank you for reading and don't hesitate to share this post with your friends and to drop me a comment, if you have any questions.
Wishing you all the best for your online journey,