Setting up a blog can be quite tricky, especially if you are a beginner. It is easy to get confused by tons of information that we may find on the Internet and getting started seems to be the most difficult thing. But, as most of the new things in life, starting a blog is easier that it seems at first.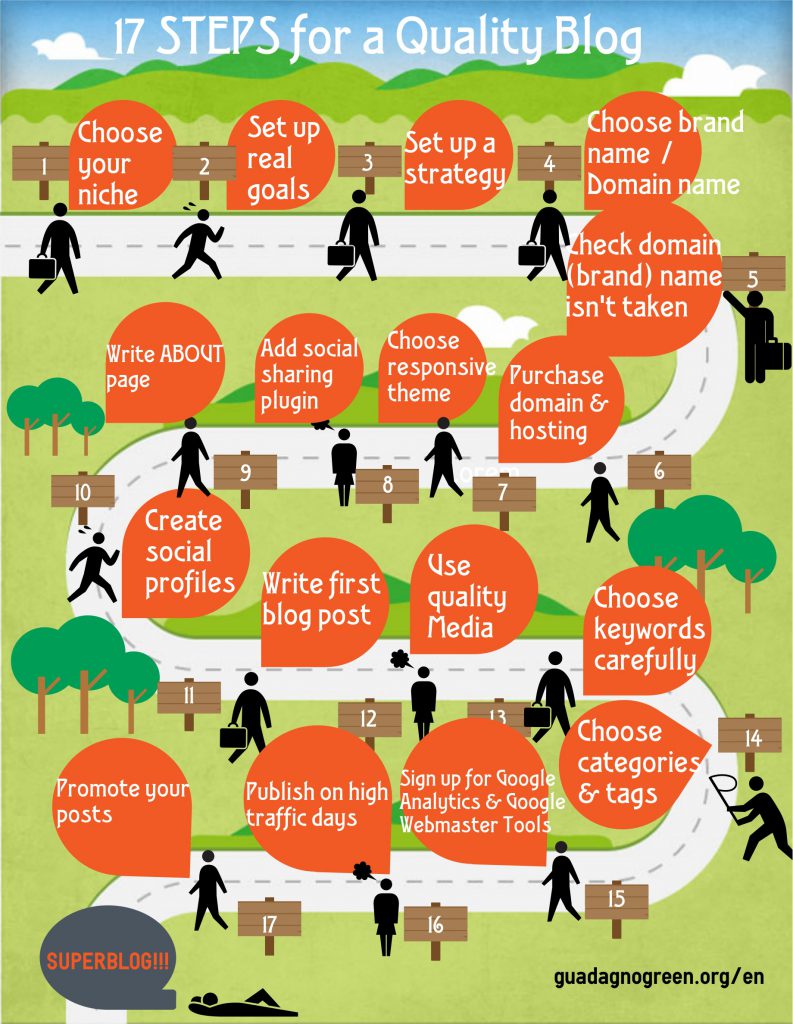 Following these steps will help you get off on the right foot.
Choose a niche for your blog. – It must be something you are really passionate about. You have to love your niche, if you don't want to lose interest for your blog. Do some research as well, in order to see what other people write about your area of interest and what other blogs in your niche are doing. Do some research regularly, even after starting your blog, it keeps you informed about your market and your public and it helps you come up with something new to offer to your public.
Set up some real goals. – they may have a deadline and a specific outcome (for example: reaching a certain number of followers/subscribers within a certain period of time)
Set up a strategy for your blog.– think about the products you would like to offer and think about your end-goals. You have to always have in mind the main reason to start a blog and how you intend to use it.
Think of a brand name/domain name. – It must be something catchy, but remember to keep it simple.
Check to make sure your brand name/domain name isn't already taken.
Purchase a domain name and a hosting package. – it gives you full control over your blog/website, but you can also choose to start a blog with one of the many free blogging platforms.
Make sure to choose a responsive theme that suits better your purposes and your niche.


---

Check out this awesome Beginner's Guide: Delicious Blogging: The Ingredients You Need To Create A Better Blog  

---

Add a social sharing plugin. – where people that visit you blog/site can click in order to share your articles.
Write an

About Page

– that describes who you are, why you started this blog and why you think it is different from the other blogs/sites of your niche.
Create some social networking profiles (Facebook, Twitter, G+, Pinterest etc) and add the links to your blog/website so your followers know where else to connect with you.
Write your first blog post. – make sure it is at least 2500 words and sets the tone for your blog's style and your niche. Don't forget you have to provide value and to impress if you want people to keep following you.
Use quality media for your articles.- photos, videos, audio and graphics. They increase the value of the post and the ranking in Google.
Choose your keywords carefully. – use the keywords tools and create posts that contain high quality keywords.
Choose your categories and tags.– and try to put each post into only one category and up to 5 tags based around your keywords.
Sign up for the Google Analytics package and Google Webmaster Tools. – so you can track your visitors, see how they behave once on your blog/site, and how Google sees your blog, in order to increase its performance.
Try to publish your posts on high traffic days (Monday-Thursday), in order to have maximum chance of exposure.
Promote your posts.– social networks, e-mails, Facebook Ads, Google Ads etc.
And HAVE FUN BLOGGING!!! 🙂
If you find this article useful, please comment below and share it with your friends!
More interesting stuff to come 😉