Maybe you have already heard of words like marketing, digital marketing, online marketing or web marketing. But what is web marketing, what is it for exactly and why has it become more and more important for the people who thrive to be successful online?
What is Web Marketing? 
First of all, think about what comes to your mind when you hear say the word "marketing".
Advertisement? Promotion? More sales? More customers? Brand? Reputation?
Actually, this term embodies several activities: ranging from brand creation to all those activities related to the products and services you offer on your website, your strategies, your target audience, your competition, the price and many more.
Web marketing is nothing more that all those marketing activities you do online. It's basically a computer-based version of traditional marketing goals that involve products, price, packaging, promotion and placing.
Here's the definition:
Web marketing, also called online marketing or Internet marketing or digital marketing, is a form of marketing and advertising which uses the Internet to deliver promotional marketing messages to consumers.
Web marketing usually includes activities related to publishing a project, creating a website and promoting it through online channels and social media.
Web marketing combines with promotion/traditional sale strategies and offline marketing analysis, thus creating an online relationship with the public (a good example of that is the online store, also known as web shop or e-commerce).
Web marketing includes all the online activities related to the 4 P's of the marketing mix: product, price, positioning and promotion, and answers to these questions:
What products or services to choose for online placement?
What prices to set online?
How to make an online promotion?
How to deliver products or services purchased online?
The strategy a web marketing project is based upon, is to give the website the best visibility over a well-defined targeted public.
In accordance with the target, the main strategy is to have your website rank high, when it comes to relevant keyword search, in order to give your keywords more visibility than those of the competitors, and thus making your website preferable.
In other words, your goal is to make your website as much visible online, for more and more people to visit it, thus increasing your sales. You can do that only by putting web marketing strategies into practice.
The main activities of web marketing:
The activities that nowadays characterize web marketing are the following:
Search Engine Optimization (SEO) – it is the process of increasing the quality and quantity of website traffic, increasing visibility of a website or a web page to users of a web search engine (such as Google, Yahoo!, Bing etc.) In other words, it is the process of affecting the visibility of a website or a web page in a web search engine's unpaid results — often referred to as "natural," "organic," or "earned" results.
Search Engine Marketing (SEM) – it comprises all those activities through which you drive traffic to a website. The aim is, through search engines, to drive as many visitors as possible; visitors who actually are interested in the website contents. SEM may incorporate search engine optimization (SEO), which adjusts or rewrites website content and site architecture to achieve a higher ranking in search engine results pages to enhance pay per click (PPC) listings.
The differences between SEO and SEM: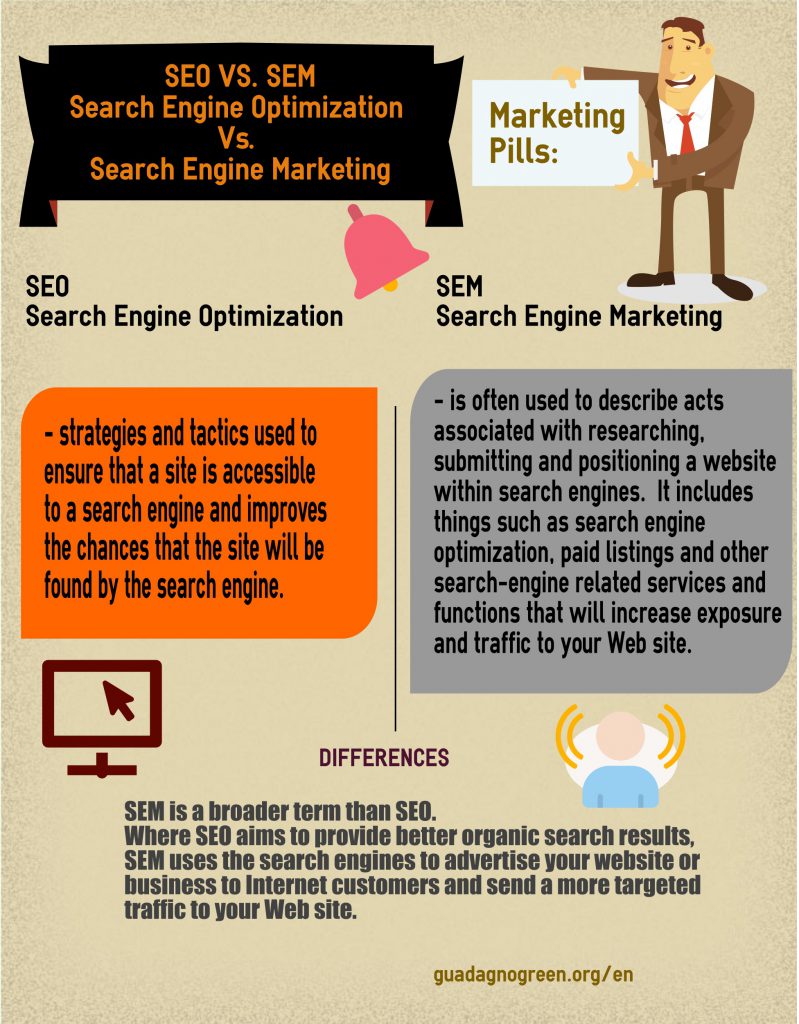 Positioning – gaining visibility in search engine results. A marketing strategy that aims to make a website/brand occupy a distinct position, relative to competing brands, in the mind of the customer. More specifically, is the process through which the website gets optimized to rank high in search engine results.
Pay per click – is a form of online advertising where an advertiser will pay when a prospective customer clicks on an ad that is directed to the website of the advertiser. The most famous form of pay-per-click is Google Ads – ex Google AdWords).
Display advertising – is advertising on websites or apps or social media through banners or other ad formats made of text, images, flash, video, and audio. The main purpose of display advertising is to deliver general advertisements and brand messages to site visitors.
Affiliate Marketing – a form of marketing that allows all those people who have a website or a blog, to make money every time visitors purchase something through ad links on your website. For more info click HERE.
Some people often mistake web marketing with online promotion or website advertising. As a matter of fact, as with traditional advertising being a tool managed by a marketing plan, so are promotional campaigns based upon banners and pay-per-click links managed by a web marketing plan.
Web marketing is the marketing you do online.
The 4 advantages of web marketing:
#1 It helps reach your target audience more easily.
People spend more and more time on the Internet: Google searching, reading news, purchasing or just using social media and messengers. Once you have found the channels your targeted public like the most, it is easy to reach the people interested in your products and services. Among these channels we find: social network platforms, dedicated forums, apps, news sites etc.
#2 It makes it easier to evaluate the success of your website or your online activity.
The easiest way to monitor your website activity is Google Analytics. Obviously, there are also a few other tools that can show you:
how many people visited your website in a given period of time;
what the most visited pages are;
the geo-localization of your visitors;
how long visitors stayed on your website;
how old your website visitors are;
what interests they have;
what are the pages generating the most sales etc.
Besides Google Analytics, if you have pages on social networks, like Facebook, Twitter or LinkedIn, you can check out the detailed statistics, that help you evaluate the public response and how successful your posts and web marketing activities are, so you can choose which ones are fit for your business and audience.
#3 Less spending on promotion and advertising.
Web marketing is less expensive. If compared to other types of traditional advertisement, like radio, tv spots, advertising on the streets, etc., online promotion takes a smaller budget and leads to a better selection of the public, which helps you show your ads only to the people you are interested in the most (age, hobby, geographical area).
What is more, working online, you have the chance to put to the test many advertising strategies and choose the one that proves more effective and gives the best results at lower prices.
#4 Several options to promote your website or your online activity.
Web marketing offers more ways to make promotion, starting from PPC, Facebook and Twitter Ads campaigns, to email and SEO campaigns.
Everything you do online to drive your website to your potential readers is part of web marketing.
Web marketing is much more than just information on a website. It should consist of well-thought-out strategies that support the business model and attract potential customers.
Do you want to know more about how to do marketing online efficiently? Click HERE to join an Open Education Project, which allows you to build your own business online from scratch. You don't need to have any specific marketing, blogging or programming skills in order to get started and there is a free membership.
If you want to know more then you can read my review and if you are ready to commit to reaching financial freedom then click the button below.

If you find this article useful, please leave me a comment below and share it with your friends.
Thank you!